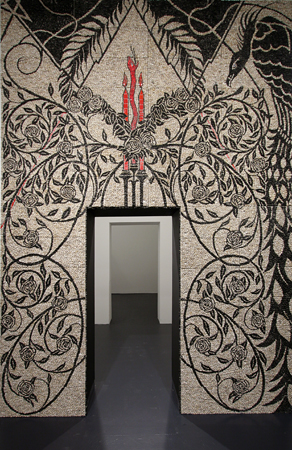 The Dirt Palace Facade project is a public art piece conceived by Dirt Palace co-founder and artist Pippi Zornoza to be installed in the Olneyville neighborhood in Providence RI in 2013.
The proposed project to transform the entire exterior of the building at 14 Olneyville Square(informally known as the Dirt Palace) into a public art piece was spun from the invitation to create a large scale installation for the Winton Bell Gallery's "Building Expectation: Past and Present Visions of the Architectural Future."
Zornoza's installation in the Bell Gallery, a mosaic facade and mural designed for the Dirt Palace, created the entryway to contemporary portion the exhibit, a grand 14 foot, floor to ceiling gateway. This installation displayed the first third of construction for the Dirt Palace Facade Project, and received funding from the Bell Gallery and the Rhode Island State Council on the Arts.
The final phase of the project, slated for the summer of 2013, will be an expansive 14ft tall by 40 foot long stone and glass mosaic that covers the entire first floor, street side facade of the Dirt Palace located in Olneyville Square.
The project is currently in its final fund raising campaign.